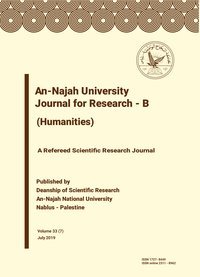 ISSN (e)

2311-8962

ISSN

1727-8449
An-Najah National University
Nablus, Palestine
P.O. Box

7, 707

Fax

(970)(9)2345982

Tel.

(970)(9)2345560
(970)(9)2345113/5/6/7-Ext. 2628

E-mail

scresearch@najah.edu

Dean

Prof. Ismail Warad
An-Najah University Journal for Research - B (Humanities)
مجلة جامعة النجاح للأبحاث - ب (العلوم الإنسانية)
Reviewer Guidelines
Blind Review is the reviewing system followed in An-Najah Journal (humanities). All the steps of reviewing are fully electronic.
Comments intended for the author and editors as well as separate comments for the editor only.
Reviewers will be asked to comply with the competing interests disclosure policy.
Reviewer Guidelines: Please consider the following points if possible:
Is the manuscript within the scope of the Journal
Are the data original and not yet published elsewhere?
Is the title appropriate and concise?
Is the abstract (in any) representative of the content of the manuscript?
Is the subject clearly and logically presented?
Are the interpretations justified?
Are the discussion and conclusions supported by the results?
Is the literature cited appropriately and comprehensively?
Are the tables and figures clear, all necessary, and well labelled?
Should some parts of the manuscript be modified, expanded, or omitted?
Does the total length of the manuscript comply with its content?
Please make a recommendation (Accept; Accept with revisions; Submit for review; Submit elsewhere; Decline; See comments).